Utilizing Weekly Schedule Templates Makes Scheduling Easy: Track Your Fitness Goals, Work Projects, Or Chores Using A Schedule Template
Project scheduling is one of the most essential aspects of project management since everything boils down to the number of activities that must be done and the time it will take to complete those tasks.
Any project, regardless of its size or scope, needs a detailed project schedule, and tracking the progress of the tasks at hand is critical to the project's success. A weekly schedule is a visual planning tool that enables you to define the activities that need to be done, with the goal of spreading them out evenly throughout the week.
You can see the progress of those tasks and guarantee that they are done in a timely manner by keeping track of them and assigning explicit accountability to them.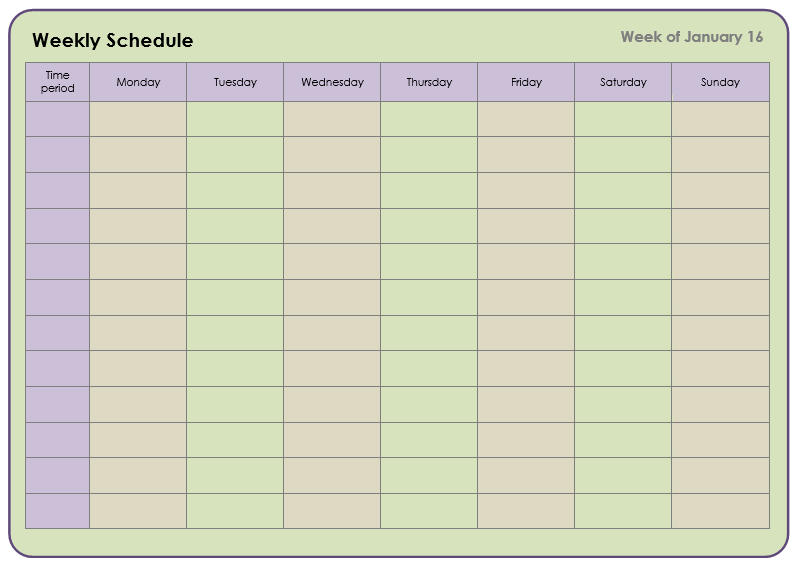 The weekly plan template saves you time as a busy manager by reducing the amount of time you spend getting things ready before you start scheduling. You won't have to recreate the form you'll be using since the template is already in place and ready to go.
The weekly plan template saves you time as a busy manager by reducing the amount of time you spend getting things ready before you start scheduling. You won't have to recreate the form you'll be using since the template is already in place and ready to go.
All you have to do is open the blank form on your computer or go through your files for a previously printed copy. Then just fill in the blanks and you're ready to go.
Why Use a Weekly Schedule?
Here are the essentials to put in your weekly calendar template, following the keep-it-simple philosophy. We've also included some tips for making your schedule more readable. Your timetable necessitates:
The week's day

The date

The name of the employee

When is your company open?

Some method to show that an employee is working a specific number of hours (e.g., an X or a bar)

The work that the employee will be doing (if this changes from day to day)
If all of your workers are typically assigned to one position (e.g., waiter, chef, or hostess) and don't change jobs very frequently, leave this final piece of information off your template to avoid cluttering the calendar.
That doesn't rule out the possibility of your host donning an apron and covering for a server if the need arises. It simply implies you aren't assigning workers to numerous tasks.
Another good approach to keep your schedule simple is to:
Employees are color-coded.

Using employee photos that are tiny

Making a table out of your schedule

Each employee's work hour is represented by a colored bar.
These are just a few easy ideas for keeping your schedule as simple as possible while still getting the job done.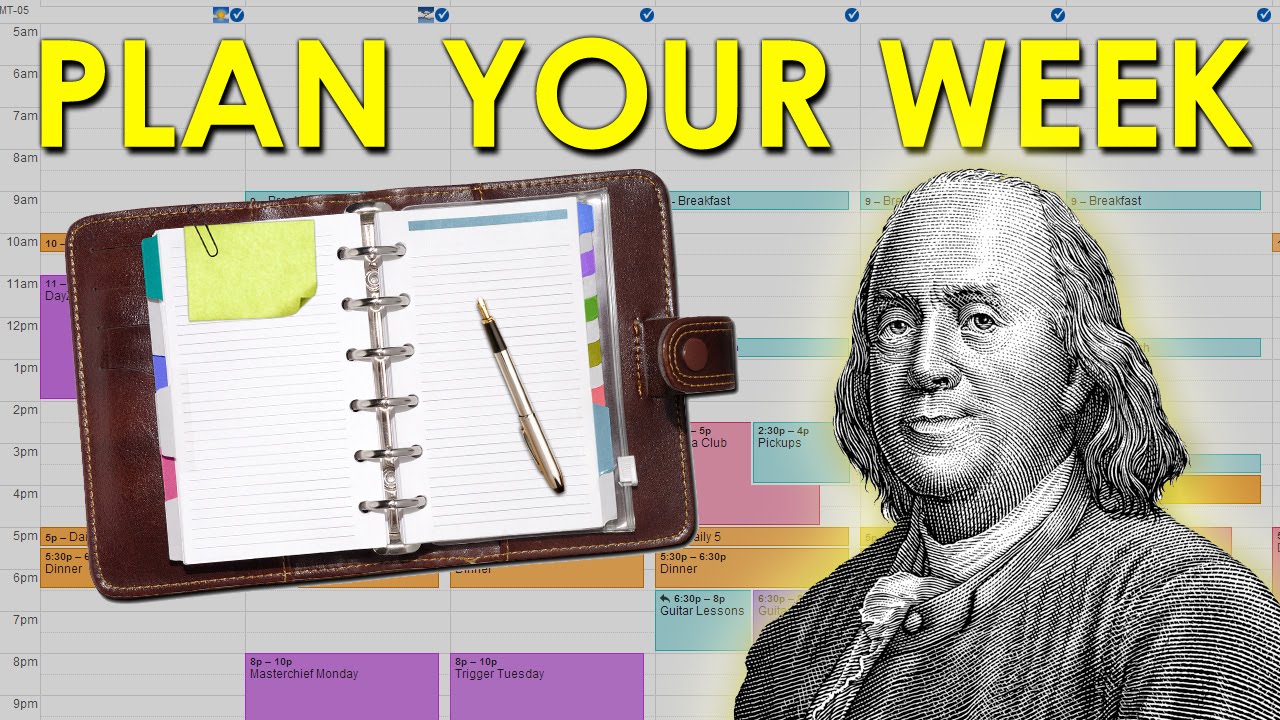 How to Plan Your Week | The Art of Manliness
Making your own weekly plan template is the easiest way to get started with one. Because of its versatility, Microsoft Excel is an obvious option for the do-it-yourself template.
It may take some time to get everything set up the way you want it, but once you have it done, the scheduling process will be much simpler. In the following part, we'll go through the advantages of taking that path.
For the time being, let's concentrate on creating your own weekly schedule templatein Excel.
For its suite of applications, Microsoft has previously created a variety of schedule templates (e.g., Word, Excel, PowerPoint, etc.),

With your copy of Excel, open the template.

Employee names, work hours, and jobs are typically pre-populated in templates.

Enter a new name in one of the employee name boxes by clicking on it. This procedure should be repeated for all of your workers.

If you need to add or remove rows, right-click on the row and make the required changes.

After you've done typing the names, select and copy the cells that contain those names.

Paste those names into the rest of the week's names.

Make a backup of your work.

The above template only covers the hours of 7 a.m. to 3 p.m., but you may modify the cells to suit your requirements. Instead of a single hour, we recommend providing a time range. Enter 8:00-10:00 in the 8:00 a.m. cell, for example (or whatever hour range you need). Enter 10:00-12:00 in the 9:00 a.m. cell. Carry on in this manner until you've reached the end of your business's operating hours.

You may now go through and input the particular tasks that each employee will be responsible for. Simply choose the cell and begin typing. To go to the next cell to the right, use the Tab key.

Finally, complete the information at the template's top. Also, include the time frame for which this schedule is valid.

Print it out and distribute it.
There are a variety of weekly planner choices available to meet everyone's needs, even the most discerning. Take a look at our collection of the finest free weekly planner templates and choose your favorite!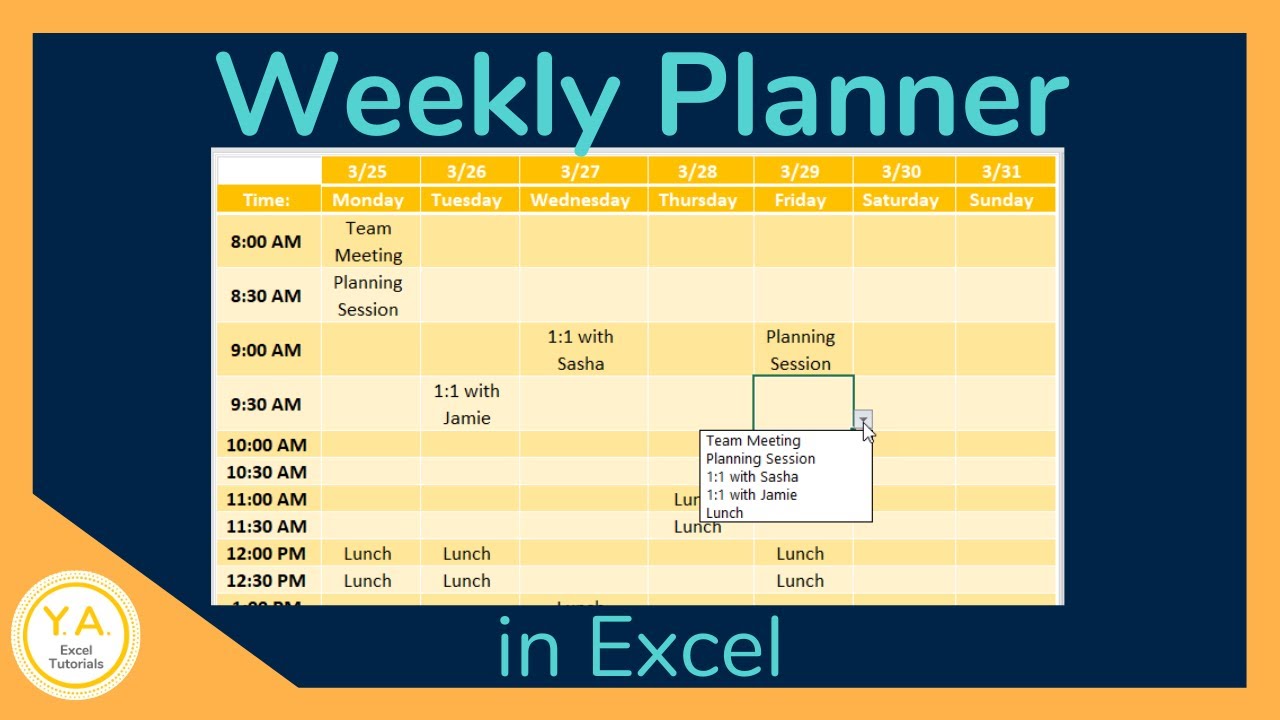 How to Make a Weekly Schedule in Excel - Tutorial
Calendarpedia is a website that provides weekly calendars, planners, templates, schedule layouts, and public holiday dates.
It's a great place to get calendars of all kinds, including annual, monthly, weekly, and weekly schedules, split year calendars, school, and academic calendars, and so much more.
Despite a large number of choices for a weekly schedule template, the website provides clear alternatives. Every weekly template is completely editable. Every week is represented by a distinct, printed page, one for each full and half week of the year.
The templates may be used for both personal and commercial purposes. You may also get weekly schedule templates tailored to Australia, Canada, or the United Kingdom. Holidays, Christian and religion-related festivals, and other significant days are all included.
On Calendarpedia, you'll discover every sort of template you'll need to better manage your work and time.
Templates for weekly schedules are provided for:
Microsoft Word formatted

Excel, PDF

OpenOffice, LibreOffice

Google Docs is a program that allows you to create documents.

Microsoft Office mobile for iPad/iOS, Android, and Windows 10 mobile 2 are all compatible.
If you're searching for a Microsoft weekly planner template, be sure to browse through their library of free designs. It's a solid option for Microsoft aficionados. You may simply customize these plans to meet your requirements by changing the colors, setting up the layout, and adding as many entries to the week view as you like.
It's best used for basic weekly planning of a college student's schoolwork, housework, and simple task management.
Microsoft also provides hundreds of printable templates in areas such as business cards, calendars, invoices, agendas, business plans, financial management, notes, and more.
It can build a database of all the essential information that will help you plan even the most complex projects and manage them transparently when used in conjunction with the printed weekly schedule template.
Microsoft Word provides basic answers, while Excel allows you to construct complex formulae that are useful for problem-solving and analytics.
Weekly templates are available to print for the following:
Word (Microsoft)

Microsoft Excel is a spreadsheet program.

Google Docs, OpenOffice, and LibreOffice are all compatible.
If you're more of a creative person, especially a girl, a businesswoman, or simply enjoy unique solutions, Canva's collection of over 160 templates will undoubtedly appeal to you.
Canva has a variety of customizable, stylish weekly schedule planners that will help you stay organized. You can select from a variety of schedule layouts for various purposes, including planning a meal, meetings, a business agenda, a weekly work schedule, and more.
Canva's templates fit perfectly on one page, and the daily agenda's transparent layouts allow you to see your plans and goals at a glance. You'll need to sign up for Canva to use weekly schedules.
OnPlanners is a website that offers thousands of planners for free. Every weekly printable template has its own set of planning pages and layouts. You can personalize them, download them, and print them.
They also include all of the essential components of a good weekly schedule template, such as goals, reminders, events, priorities, and weekly to-do lists. If you're looking for something other than a weekly schedule template, take a look around the website.
There are a plethora of weekly calendars, monthly planners, and other planning tools available. Examine all of the schedule layouts and pick your favorite!
Everything from amusing memes to a weekly plan template may be found on Pinterest. They come in a variety of layouts and you may choose from any of the categories.
Bullet journals, minimalist templates, hourly templates, a weekly planner in the shape of a whiteboard, work, family, and student templates, weekly schedule template for employees, simple and complex planners, vertical work schedule, timesheets for Excel, black and white or colorful planners are all available. You can get whatever you want in any format that you desire. There's a lot to choose from!
Google Docs Weekly SchedulerFor individuals who like to schedule work and projects online, Google Docs has calendar templates. Because the choices are restricted, it's better to obtain a template through a third-party website rather than straight from Google.
On the internet, there are a plethora of options. Simply look for Google Docs schedule layouts. You may also discover many helpful add-ons for tweaking your template in the G Suite Marketplace.
If you want, you can make your own calendar in Google Docs. Creating a template in Microsoft Word and Excel works in a similar way. You may save your free weekly schedule template on your computer and use it in Word or Excel later.
Microsoft Word, Excel, Libre Office, and OpenOffice are all compatible with Google Docs templates. They are simple to print.
Smartsheet has 15 free weekly templates available. Simple solutions that enable you to keep track of whatever you want – chores, projects, and appointments – are available.
You may also make a to-do list and establish and track objectives. They fit on one page, giving you a clear picture of your weekly schedule or allowing you to create a weekly summary of your work week.
Templates for Smartsheets are available in Excel, Word, and PDF formats, as well as for Google Docs and the Smartsheet app. You may simply choose a weekly schedule planner to print for your business.
Findmyshift may be a good option if you require an employee schedule template. It's a basic weekly calendar that managers may modify and print for their staff. The schedule is available in employee and facility views.
Add workers, invite guests, post a message on the notice board to interact with employees and colleagues, add time off and requests, send messages, and even view reports for budget, hours, time off, shifts, and more with this template.
In the settings, you may also specify more specific parameters. You may also upload your template, modify it, and print it for the whole team.
Using a schedule template to manage your time is a good idea. Counting the time spent on specific activities, on the other hand, isn't. Especially if your customers are billed by the hour.
That's when time-tracking software for computers comes in useful.
You can automate and optimize your job using Timecamp. You know precisely how much time you have to devote to each job and project thanks to accurate time monitoring. It's also a useful employee scheduling tool for organizing the work of the whole team.
You may see how and when employees work, monitor attendance, and ensure that things are running well. TimeCamp is an automatic time tracker with a number of sophisticated features that aid in time management and job organization:
Automatic time monitoring that keeps track of how much time you spend on applications, websites, and tasks.

Timesheets with approvals (and the option to export timesheets to Excel and Google spreadsheets) are available, as well as the ability to print reports.

Rates that are billable and non-billable

To assist you in collaborating with customers, use budgeting and invoicing.

Keeping track of both productive and ineffective actions

Communication software and integrations with the most popular productivity applications. CRM, project management software, and a slew of other options are available.

A feature of GPS

Unlimited users are included in the free plan.

Projects, tasks, subtasks, and tags let you keep track of your weekly to-do list.
Share:
Twitter

|
Facebook

|
Linkedin