Free Designs For Commercial Use You Don't Want To Miss
If you run out of ideas, either as a graphic designer or as someone running a website for your small business, get free designs from several websites at any given time.
It's not also only a matter of getting inspiration or a fresh perspective, but chances are, you might be working on a tight budget for designs. In fact, a company from Washington discovered the estimated amount of money small businesses in America allot for their website, and it's not really that big.
In a 2018 survey of 351 small business owners, Clutch, an online business-to-business (B2B) field guide, learned that for their website, 28 percent of them would allocate "less than $500."
Small business organizations will get their hands on whatever free designs that will work best for them and for their product or service.
100% FREE Design Resources: Avoid Copyright Issues
COPYRIGHT_FT: Published on https://free-template.co/free-designs/ by Steve Martins on 2022-09-18T18:32:01.912Z
The least you can do when using these free designs for commercial purposes is to give proper attributions whenever required. Anyway, the websites that offer free design resources include license details; so, make sure you read them as well as the site's Terms of Use for guidance.
Below are five free design resources for pictures and vector graphics (one of them even offers royalty-free videos) you can check:
Brands of the World
It describes itself on its website as "the largest free library of downloadable vector logos," which includes logos of major brand names in vector format. Think of free designs for Coca-Cola, Disney, McDonald's, Unilever, and Visa, to name a few. To download a vector logo, you need to sign up, which is free.
You can search its logo collection easily because it is alphabetically arranged, but there are also three more options on how to look for a logo, namely:
by categories (a total of 39 categories, from Architecture to Travel)

by country (from Afghanistan to Zimbabwe)

by history, meaning, the time they got included in the collection (beginning from those added in January 2000)
If you have designed a logo and you want to know how it fares, you can upload it at the website for assessment. That explains why Brands of the World also calls itself as "a logo critique community."
The logo will be critiqued and rated by people in the following areas:
Colors

Idea

Symbol

Typography
To rate and comment, one must log in to his/her Brands of the World account.
FreeVectors
It offers vector art and graphics.

For personal use, all its images are free, but for commercial use, FreeVectors reminds that "most of them" are allowed for such purposes. - The site will tell if a particular image is an original artwork – and therefore owned – by FreeVectors.net.

If FreeVectors.net did not create an image, the site will provide a link to its original creator or owner.

The site informs users of the license type for each image they will download.
Pixeden
As of this writing, it already counted more than 68.6 million downloads!

It offers free designs in the following categories:

You can also browse files by "Latest," "Popular," "Most Liked," and "Free."

Pay $6 a month to access its "Premium" files.
Vecteezy
Its collections include the following (figures indicated were as of this writing): - photos (28 categories; approximately 350,000)

vectors (28 categories; approx. 650,000)

royalty-free videos (15 categories; approx. 248,700)

Though it offers free design resources, unlimited downloads and access to Vecteezy's entire library is only possible if you subscribe. - monthly subscription: $14 per month (total of $168 per year)

annual subscription (billed every year): $108 (that means $9 only per month)
Vector4Free
This website functions similarly to FreeVectors.
Vector Portal
Its free designs are permitted for commercial use as long as the user will give the appropriate attribution. - It uses the Creative Commons Attribution license, or the Attribution 4.0 International (CC BY 4.0)

Users can remove the watermark.

It has 24 categories (from Animals to Tribal, including Clip Art, Illustrator Templates, and Stock Vectors).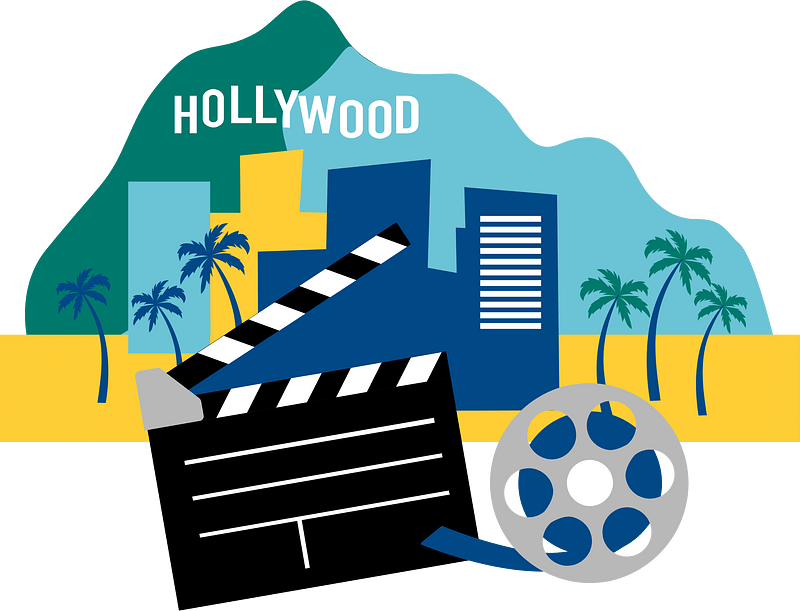 Clip art showing the word 'Hollywood' in uppercase letters, buildings, six palm trees, clapperboard and film roll
Once upon a time, people could get free designs from Microsoft Office's clip art, but the giant tech company decided to permanently remove it in 2014.
But nothing to worry about because you can still get free clipart to create designs for commercial use from numerous design resources available on the Web. The list below includes just some of them, and, again, read first their Terms of Use before downloading any clipart.
Clker.com
It has two main categories: - Free Clipart (from Animal to Yellow)

Free Pictures (from Animated to Wallpaper)

Aside from those included under "Free Clipart," it has a clipart section dedicated for 14 groups (from Art to Science).

It also features clipart under the following sections for easy viewing: - Newest Clipart

Newest Pictures

Most Popular Clipart
ClipartLogo
It offers more than 73,200 free clip arts (formats: AI, CDR, EPS, SVG) in 24 different categories, five of which are the following:
Certificate Diploma

Corporate Identity Mockup

Hand-drawn Clouds

Seamless Pattern

Vintage Ornamental and Design Elements
Clipart.me
It offers free clipart (formats: AI, CDR, EPS, PSD, SVG) in the following categories:
Animals & Wildlife

Business & Finance

Flowers & Trees

Food & Drink

Maps & Charts

Ornaments
Creazilla
Its free designs for commercial use don't need attributions, but you still need to read the License Information section of the website for better understanding.

It offers free clipart (formats: PNG and SVG) in 41 categories

Its website, as of this writing, has 3,722 pages of clipart
Publicdomainvectors.org
It offers vector images that are copyright-free, including, as of this writing, 6,496 free clipart for commercial use in AI, EPS, and SVG formats.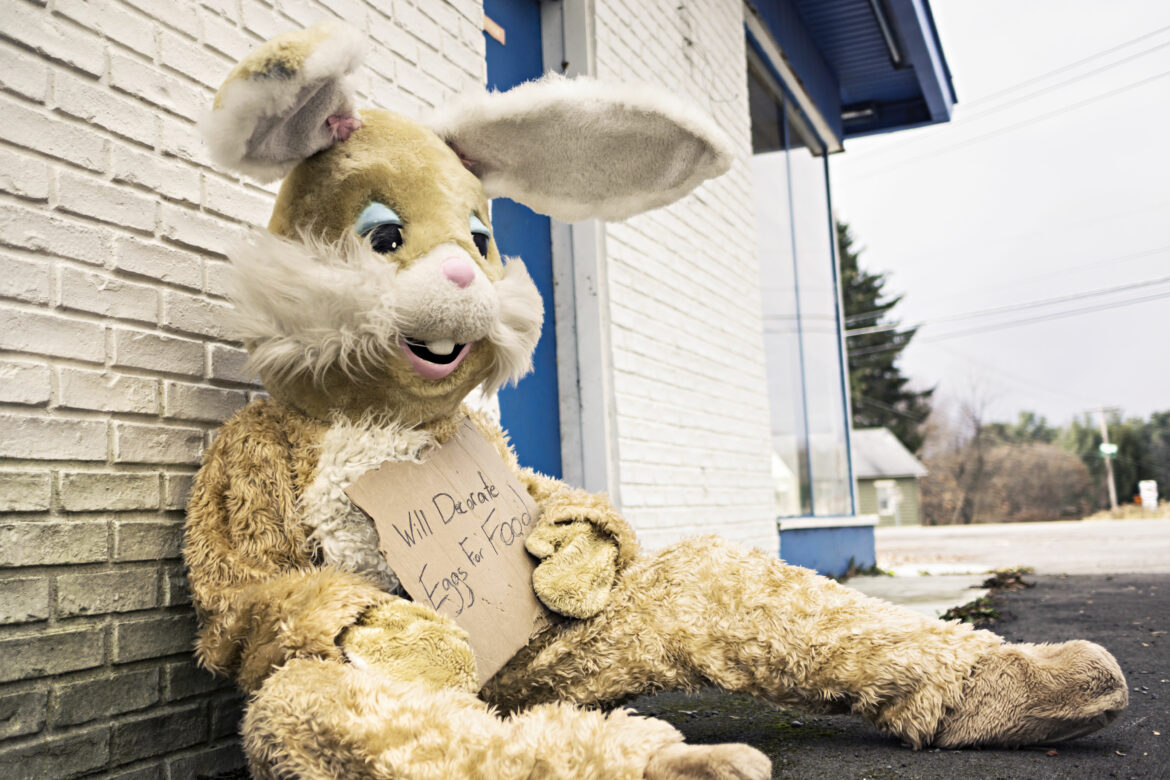 Person sitting on a pavement in unhappy rabbit suit holding a handwritten sign that says 'Will Decorate Eggs For Food'
As long as you're connected to the Web, you can simply get free graphics for commercial use online, with millions available for download without even requiring attributions.
Five of these free design sources are the following:
Gratisography
Its pictures fall under the following categories:

Those pictures are further grouped into the following collections:
Life of Pix
Check this out first if you're after for artistic shots. Its galleries are composed of 14 themes or subjects, with Nature having the highest number of collections at 1,012.
New Old Stock
If the free designs you're looking for involve black-and-white vintage photos with no copyright restrictions, then check this website.
Pexels
It's known for its royalty-free and high-resolution images.

You can search for a photo by color.

It has dozens of collections, including the following:

Its curated collections alone have over 500 categories.
Pixabay
This website claims to have an estimated 2.4 million high-quality images that are all free.
If you're looking for free cartoon characters for commercial use, go to the following websites:
123freevectors.com (type "cartoon girl" in search bar)

All-free-download.com (type "cartoon characters for commercial use" in search bar)

Publicdomainvectors.org (approximately 8,700 free cartoon character clip art)

Vector Characters (39 categories)
It could be safe to presume that regardless of the size, the number of businesses across the globe getting a website increases each year. As more and more business organizations realize the benefits of establishing an online presence, they might also look for free designs to lessen operating costs.
German database company Statista reported on its website that 83.4 percent of businesses in the United Kingdom had a website in 2019, and back in 2010, it was 78.5 percent.
Indeed, the need for free designs also rises as the number of commercial websites, in particular, continue to increase through the years.
Share:
Twitter

|
Facebook

|
Linkedin