Promote Your Brand With These Youtube Banner Template
Consider the last time you were browsing the aisles of your neighborhood bookstore. Was there a particular book that piqued your interest? Perhaps the initial visual interest piqued your curiosity enough to make you want to open the book and explore what was within. Whatever book piqued your interest, there's a decent probability that vivid illustrations had a role in piquing your interest and making you want to learn more about it.
Like a good book cover, an excellent YouTube banner piques your curiosity and makes you want to investigate further. Youtube channel perception is influenced significantly by how users perceive a YouTube channel. Moreover, in this day and age, few firms can afford to ignore their YouTube channel. The social networking site YouTube recently released statistics showing that its users view more than a billion hours of video per day on the platform.
We'll cover everything a business needs to know about creating YouTube banners with the proper dimensions and file size for various devices in this post. Additionally, we'll show you some examples of YouTube banner template, providing abundant inspiration for you to construct your own.
The YouTube banner, sometimes referred to as channel art or the channel header image, is a terrific method to get your audience's attention. It's the enormous banner at the very top of the YouTube channel page. The primary goal of channel art is to convey to the intended audience the personality and brand of the channel through visual means.
A well-thought-out YouTube channel art design tells your viewers what kind of content they can expect from your channel, as well as what kind of brand you represent. If you want to use your channel art to tell a captivating story or promote your company, all you need is an eye-catching design.
In the next section, we will discuss a few key terms and concepts related to how photos display on different devices. In the meantime, here are a few items to double-check to see if your banner ad artwork fulfills YouTube's banner size requirements:
YouTube's Recommended Banner Size is 2,560 x 1,440 pixels

Minimum image dimensions: 2,048 x 1,152 pixels

Minimum image safe area for text and logos: 1,546 x 423 pixels

Maximum image width: 2,560 x 423 pixels

File size limit: 6MB
Remember the "safe area" we mentioned before. When visitors visit your channel, your banner is essentially the most prominent branding opportunity, therefore you'll want to make sure that your logo and accompanying words are prominently shown in the channel graphic. That's why it's a good idea to include your firm's name and logo in the center of the video — this will avoid viewers from becoming confused if the name of the company behind the YouTube account is unintentionally chopped out when uploading.
Instead of starting from the outside of a 2560 x 1440 frame, video production company, MiniMatters proposes starting "from the middle out," putting the most critical elements in the center.
Finally, when it comes to choosing what to include in your banner, we like to stick to a few basic guidelines:
Make use of a high-resolution photograph. A banner that is pixelated or blurry does not necessarily indicate that there will be high-quality video to follow.

Keep it consistent with the brand. The visual aspects of your channel art do not have to be a carbon replica of your logo or tagline, but they should include visual characteristics that you want to be associated with your brand such as specific colors and fonts as well as specific keywords.

Your company's banner should accurately express what it does in a timely approach. Consider the following example: If you own and operate a bakery and are preparing for the summer season, an eye-catching banner might include a high-resolution photo of a brightly-colored work surface covered with flour and a rolling pin, with accompanying text such as "April showers bring May flours."
There are lots of them! Ready to get started? Here are some examples, let's start.
Canva is a good tool for beginners to learn how to design graphics. The program comes preloaded with over 30 font sets, graphics, photos, colors, and themes. These elements can be used to make stunning YouTube banners.
YouTube banner maker makes simple-to-use YouTube banner templates in minutes. No design experience? Don't worry - even if you don't have any, Canva offers you thousands of free professional designs to select from when creating your banner. In addition to the color and font, image, and photo editor, you also get free use of thousands of colors and fonts, high-quality images, and thousands of free photos.
With Canva, you don't have to worry about the size of YouTube's banner requirement, which must be 2560 pixels wide and 1440 pixels tall. All of YouTube's banner requirements are catered to inside the customization of the workspace and templates.
It's simple to make a YouTube banner with Canva. Sign up for a free Canva account, then search through Canva's extensive collection for rich layouts that best match the style and tone of your YouTube channel. After you've found the ideal template, click on it to begin customizing it.
You may experiment with the drag and drop YouTube banner maker's free design elements such as GIFs, stickers, shapes, free stock photographs, videos, graphics, and other creative materials. Simply drag and drop the design piece into your e-canvas.
For a more personalized approach, Canva allows users to contribute photographs or videos to their projects. Before publishing your YouTube banner, you can previewit to see how it will look on your channel.
With the YouTube banner generator, you can post your newly-designed YouTube banner to your YouTube channel without having to use a third-party service. You may also share your design with your friends.
There is a free plan available from Canva that allows you access to the majority of its features. Premium plans (Pro and Enterprise) are also available, which get you access to the company's pro templates, additional functionality, and collaboration capabilities.
Individuals who want to take advantage of the premium features and material available on the site should consider the pro plan. Team and brand members that wish to scale their design content in a centralized location will benefit from purchasing the enterprise plan.
Adobe Spark is one of the greatest YouTube banner creators available, and it can help your YouTube channel stand out from the crowd. It provides you with the design tools necessary to make your own YouTube banner.
Instead of starting from scratch, you may utilize the software to adapt existing banner design templates for YouTube. There is also the option of creating your own design and uploading your own photographs. Adobe Spark is simple to use and intuitive to learn, and it empowers you to exercise complete creative control over your projects.
User customization options include modifying or replacing the complete background, employing different color combinations, altering text and theme selections as well as layouts and alignments. The web program also provides users with a variety of customization possibilities.
Adobe Spark is a simple-to-use design tool accessible as a desktop and mobile application. Multiple platforms, including Windows, Mac, Android, and iOS devices, can be used to create designs with the software.
You get access to all of Adobe Spark's premium banner creator features at no additional cost if you have a subscription plan with Adobe Creative Cloud Services.
Adobe Spark offers a free plan that allows customers to make YouTube banners without spending any money on the internet. Adobe Spark watermark will be on any YouTube banner designs you produce with the free plan.
You must pay its premium versions to gain access to watermark-free banner designs (individual and team). If you are the only one involved in the design process, the individual plan is right for you. Multiple users can be managed under one account with the team plan
This basic YouTube banner builder allows users to easily design YouTube banners for their channels. It's a simple design tool that allows customers to use its free YouTube banner creator without having to register.
Users can adjust and edit over 130 banner templates in the YouTube banner builder to suit their preferences. By simply modifying the text, font, background, and other design aspects in Placeit banner templates, you may build a unique banner.
The final form of your banner will include a Placeit watermark in the backdrop, despite the fact that it provides consumers a free and online YouTube banner creator with designs. You can, however, pay a nominal amount or subscribe to its premium plan to get rid of it.
You don't need to download any software or have any design experience to utilize the online design tool. You can instantly make your own YouTube banner using the tool. You can download your YouTube banner in high resolution using the design tool.
Placeit is more than just a tool for creating YouTube banners. Create eye-catching video thumbnails, iconic profile photographs, and logos to increase your channel's appeal and attract more viewers with this comprehensive YouTube design package.
You are free to use Placeit, and there are no login requirements. However, with no upfront fees, a free subscription offers free use of Placeit's watermark on the design as well as basic capabilities.
You must subscribe to its premium plan to gain access to 5,700 attractive templates, 4,600+ logo templates, hundreds of breathtaking films, 33,300+ mockup templates, and no watermark (monthly or annual).
Among the top YouTube banner generators, Venngage has built-in templates that you can edit to create the banner of your dreams. It is free to use. You can also design without using the templates and start from scratch.
There is an extensive collection of artwork, icons, and stock images used in the YouTube banner. Users can personalize their designs by including their own logos, photos, and other design components. They can then alter their designs until they have the exact banner that appeals to them.
You should be aware that downloading possibilities are limited while using Venngage. The finished pile can only be exported in PNG or PDF format. There is no way to save your completed YouTube banner as a JPG file. You can share your banner design with your friends and teams using the online design tool.
In five simple steps, Venngage will help you build the perfect YouTube banner for your channel. The first step is to create an account on Venngage for free using Facebook, Gmail, or email. The second step is to select the ideal YouTube banner templatethat Venngage has previously created for you.
To further enrich the template, the next stage is to add engaging background photos, icons, and other attractive designs. Then include your YouTube channel name, logo, and any other significant brand designs that help folks recognize you. The final step is to save the completed YouTube banner.
Creating YouTub banners using Venngage is free, but you are limited to five designs and images. The premium plan allows users to create an unlimited number of designs, upload up to 50 images, and access premium templates. Venngage branding is included in the finished design of both the free and premium plans.
Users can get limitless designs, 500 image uploads, premium templates, and business templates with the business and enterprise plans. They enable you to incorporate your identity into the final design.
Additionally, Venngage offers educational pricing, which includes a 14-day free trial. You can pay monthly or yearly. It provides you with access to all of its premium features, including premium charts and icons, at no additional charge.
Crello is one of the best YouTube banner producers with a large selection of themes and photos.
Users of the free edition of Depositphotos have access to over 1 million premium images, 50,000+ design templates, thousands of full HD video clips and animations, and 200 million royalty-free stock assets. Each week, it refreshes its template and photo library.
Your banner is one of the first things your audience sees when they visit your YouTube channel. Crello enables you to design an eye-catching YouTube banner that will captivate your visitors.
The banner-making software helps build appealing banners for various social media channels, including Facebook and Twitter.
Crello is a solid candidate if you're searching for an online design tool to help you build a brand design that is consistent across all of your platforms.
Using Crello, it's simple and quick to create a YouTube cover art or banner. To use the tool, you do not need to be a graphic artist. It features a robust visual editor and drag-and-drop capability that enables users to simply and rapidly create gorgeous YouTube cover arts.
Crello's free plan includes all templates, graphics, and design materials. Only five design downloads per month are allowed.
Subscribe to its pro subscription to get limitless design downloads, team collaboration features, and backdrop removal.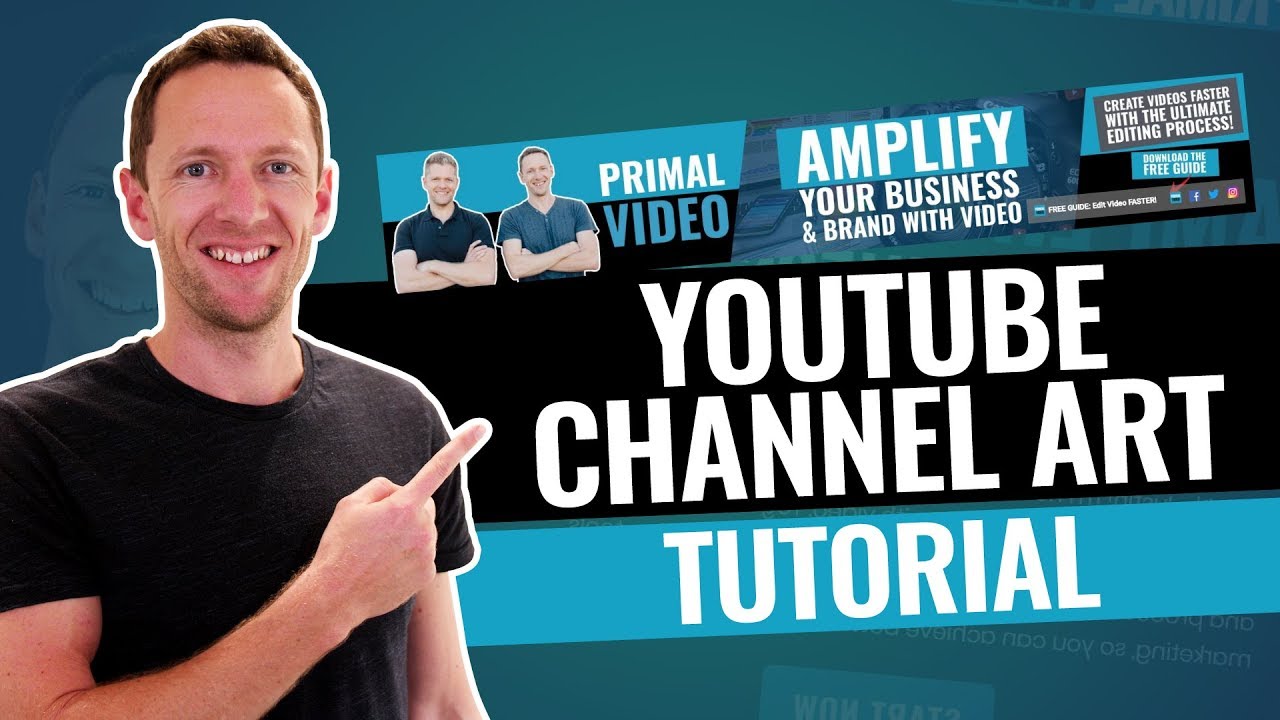 How to Make a YouTube Banner (YouTube Channel Art Tutorial!)
In the video-sharing world, YouTube is one of the most competitive platforms, bringing businesses closer to their customers through video. A marketer must not only optimize Facebook Pages and Instagram profiles, but also the company's account(s) on the social media platform. Consider adding high-quality YouTube channel art design to your channel as one of the most important steps you can do to make your YouTube channel fantastic and visually appealing.
Creating a YouTube channel is your first and most critical step in establishing a relationship with your target audience. To that end, you want to make it clear to your target audience how your brand can help solve their problem. Help your audience solve their problem by revealing how your brand can assist.
To that topic, the question now is, how can you entice your target audience to your channel, and make them interested in sticking around? When it comes to channel art design, this method helps. Breathtakingly attractive channel banner describes your brand to the initial audience.
On your YouTube channel, you will find the "BFF" of your YouTube channel: your channel logo. Your general impression of your channel's viewers might be that they are only there for the videos you have uploaded, but if you examine it closely, you will discover that the design of your YouTube channel significantly contributes to your channel's success. If you do this right, you will be the first thing people see and you will get your first subscribers - good luck!
We can't dispute the importance of including logos here, as we've already addressed how the design of your YouTube channel plays a critical role in attracting your first visitors and creating more views. Your corporate identity is displayed the instant you place your brand logo on your channel art. Needless to say, these logos are unique to your company and hence instantly recognizable, helping your company stand out.
Your audience will be more engaged if you use logos. You should be aware, however, that a logo is not the same as a user icon. A user icon is a graphic that appears on the main page next to user comments, whereas a brand logo is an emblem that identifies who you are and what your brand values are.
Consider this: why do you post videos on YouTube in the first place? As you can see, simply getting your target audience to engage with your brand is all you need to do. A YouTube channel art is without a doubt the most important thing you have on your YouTube page, as it is positioned at the top right of everything and spans the majority of the screen, if not the full width of the screen. The significance of this placement is that anything you place there will almost certainly attract the attention of your viewers.
To put it another way, this section can serve as an excellent advertising medium for your company's products and services. It is recommended that you present your product once a month in this section to get the most out of it.
While the first-time subscribers are wowed by your fascinating channel graphics, you must maintain your hold on them by drawing them back again and over again. What's the secret? Fortunately, there is one natural way that will undoubtedly allow you to gain an advantage over your competitors: change your YouTube channel's artwork to match theirs!
There are dozens of templates available on a variety of well-known websites such as Canva or Cello, which you may adapt based on your videos.
You might, for example, one day post a video on new shoes and wish to create your channel banner around that topic. Next, you might want to discuss camping goods, and in order to catch your audience's attention, you'd update your banner to show camping gear. Customizing the template without a doubt has a beneficial effect.
Background art on YouTube offers important information about your channel, such as the tagline, media accounts, upload schedules, and so on. Your YouTube channel background art is a nice visual aid to show your viewers when they should click your channel name and what they can expect from you.
Finally, your YouTube channel becomes a marketing hotspot for your company and an extension of your brand's reach and influence.
Intuit's software company named Death Wish Coffee was the winner of a small business marketing competition in 2016. What is the prize? During Super Bowl 50, they got a free 30-second commercial. Since then, the self-described "world's strongest coffee" has capitalized on that momentum by ensuring that its branding remains just as strong.
Its last YouTube banner is no exception. It's simple, yet it's also bold. The channel symbol features the company's logo, as well as a tiled watermark that does not obstruct the text display. And there's no mistaking what the brand stands for with that message. "What is the world's strongest coffee?" Very catchy.
Numerous people adore various tints of blue, such as turquoise. However, color has been shown to have a significant effect on marketing; tones of blue, for example, have been shown to elicit sentiments of trust.
However, this banner makes excellent use of color. It connotes inventiveness and visual quality in a single image – two qualities that Adobe Creative Cloud's suite products guarantee. The individual depicted appears to be building something extraordinary — an ocean within a balloon — with the accompanying caption confirming this: "Make wow." Additionally, social media buttons are included within the image to provide additional information.
It's only fitting that the cover art for a cuisine magazine like Bon Appétit is tasty. As for "bon appétit," it's crucial that visitors to this YouTube channel understand what they're getting into.
That's one of the banner's amazing features. From the logo icon to the title text in the image's center, the branding is evident. Also, the photo itself indicates the type of content viewers may anticipate seeing when they start viewing the channel's videos: all about food.
The beautiful thing about YouTube banners is that they can be changed whenever you want. That makes them ideal for short-term promotions. That's what Taulia did for "P2P Superheroes": a campaign that highlights how its software can free up time-consuming duties, allowing regular people to focus on more important jobs and becoming superheroes.
The banner communicates two things: first, that Taulia is in the P2P ("procure to pay") market, and second, that the brand truly values procurement specialists. And by including unique, cartoon-like imagery, Taulia transforms what could be a dry subject into something enjoyable and engaging.
Millions of tourists use TripAdvisor to find and rate hotels, restaurants, and other information about limitless places. But did you know it also provides business-to-business services to help hotel and other property owners make the most of their position on the site?
It's like a B2B Yelp/Airbnb combination. On the one hand, TripAdvisor B2B assists company owners in creating a profile that includes photos, descriptions, and other information that tourists may find useful. However, similar to Yelp, it allows them to monitor and reply to the reviews their businesses receive.
In the YouTube banner, not only is what the site is all about depicted (travel) but also the act of visitors providing feedback on their experiences through the use of rating symbols are depicted.
It's critical to keep in mind that truly awesome YouTube channel art is only one component of a holistic video content strategy. It makes no difference how lovely your banner is if your channel lacks high-quality video or hasn't uploaded anything fresh in several weeks.
Thus, an outstanding design must be accompanied by consistency. And as you begin to build both, you can draw inspiration from these examples.
Share:
Twitter

|
Facebook

|
Linkedin