Go Get The Best Design App For Phones
It won't be surprising for those graphic artists and similar designers who find themselves frequently moving from one place to another to use at least one mobile design app. It will always come handy for people on the go, especially when a deadline looms.
In his article for digital marketplace FilterGrade, Oregon-based marketing specialist Mason Lindblad mentioned the "power" and greater "flexibility" that come with using desktop applications. For Lindblad, that could be one reason why graphic designers opt to work on their personal computer more than on their mobile phone.
Still, when work tags along wherever they go at any given time, creatives might only have their smartphone – and a reliable design app – to rescue them.
TOP 5 Mobile Graphic Design Apps 2021: Printful Print-On-Demand
The good news is that nowadays a design app for phones is as easily available as a box of piping hot pizza. There are plenty of hot graphic design apps for Android and iOS to choose from that could make your work sizzle. There seems to be nothing too hot to handle for seasoned graphic designers, anyway. So, for all designers out there, presented below are some design apps for phones worth checking out.
Adobe Illustrator Draw
This is the mobile design app version of Adobe Illustrator that's best used for vector illustrations and sketches. It comes with Adobe Capture (for color themes), ten drawing layers, five vector pens, vector shapes, and an eraser, according to Adobe.
Lindblad and August van de Ven, a Dutch website creator and founder of the platform FakeClients for illustrators and designers, don't recommend Adobe Illustrator Draw for making logo designs. In addition, van de Ven doesn't endorse it for designing an interface.
Adobe Photoshop Mix
A reliable design app for composite photos, with helpful image filters, color adjustments, and other photo manipulation tools, said Lindblad. Use it to combine several images, with an option to cut out or delete portions you don't want to include.
Canva
Its mobile design app has features not found on its desktop version. First, the range of filters is "even more extensive" in Canva for Mobile, with certain filters only available on it. Second, customizing these filters is made "easier." Third, it has a live camera feature for creating stories on Facebook and Instagram. Fourth, Canva for iPhone has a feature called "Packs," a graphics collection with different themes.
Lindblad said that Canva for Mobile is the choice for "very basic" graphic designs. He praised it for "great-looking" design templates, which he added were perfect for making social media graphics.
Create
A drawing and graphic design app, use it for fonts, graphics, logos, mood boards, photos such as duotone ones and photo collages, text, typography, and vector art.
Procreate Pocket
Use this design app to make art in 64-bit color and canvases in Ultra High Definition, said Apple. Some of its great features are the Revolutionary QuickShape (to create perfect shapes), auto-save function, and undo and redo function (250 levels).
Tayasui Sketches
For "incredibly realistic" illustrations, paintings, and sketches, Apple recommends this design app, which it also describes as "versatile and user-friendly." Its features include Brush Editor, Color Eyedropper, watercolor wet brushes, and more than 20 "ultra-realistic" tools.
Now that's an important point to consider and the answer is "yes." With an installed design app on a phone, it's possible to create designs, illustrations, and sketches when there's no available desktop, laptop, or tablet. That's one reason why the other term for a mobile phone includes the word "smart." Any high-end phone will do, said van de Ven, but he recommends going for smartphones with Stylus.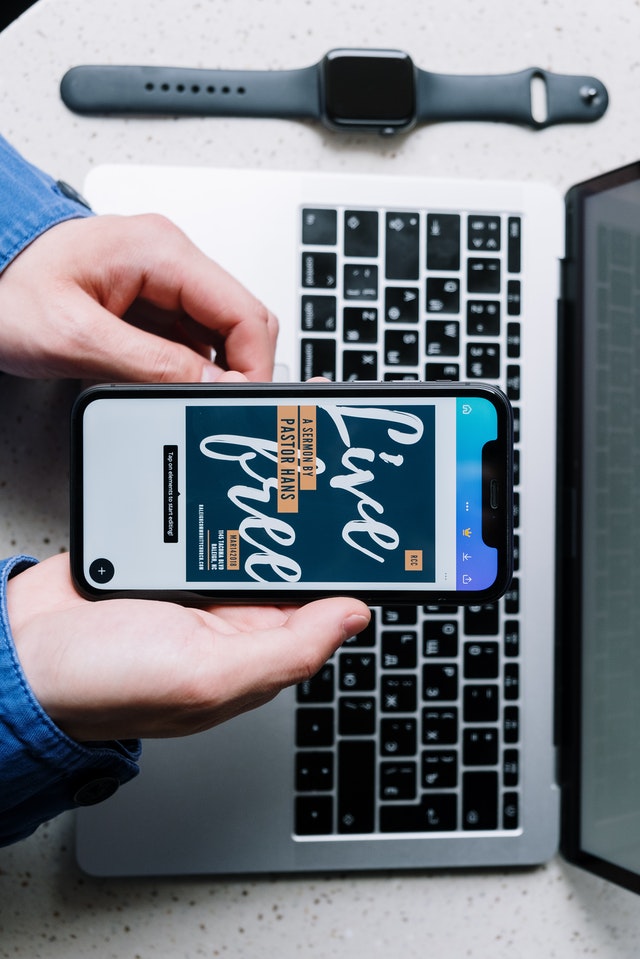 Graphic designer looks at Desygner poster with the words 'Live free' in white and 'A Sermon by Pastor Hans' on a smartphone
This article picks Desygner as the best design app for phones because it works for both Android and iOS and offers a "free forever" use. In addition, it has free templates(18 categories) you can use to create banners, cards, invitations, logos, marketing materials, presentations, and social media covers and images. Moreover, its features include brand kit and library, graphic design and PDF editor, and royalty-free images.
Its paid plans (Pro+ at $59.40/year and Business at $119.40/year) give access to 1,000 fonts, premium templates, and up to approximately 147 million Shutterstock images. You can also import and edit PDF without limit, get a social media scheduler, and have your own curated library, among other great features and perks.
Creatives, in general, have varying criteria, requirements, and whims when it comes to choosing a design app for phones that they hope can constantly deliver positive results.
With smartphones becoming ever more functional, designers may not always bring their laptops with them.
For those who are on the go and urgently need to create or edit a design, a mobile design app could help save the day.
Share:
Twitter

|
Facebook

|
Linkedin