Curate A Successful Press Release Using These Press Release Template
Knowing how to craft a press release is a valuable asset for any marketer. Even so, it isn't going to be simple. Press releases may seem difficult to write if you're used to writing other types of web content such as blog posts or e-books.
However, the beauty of this medium is that you only need a basic understanding of formatting rules, language, and audience in order to get creative.
A press release can be an effective tool in an era where the majority of Americans prefer to get their news from the internet. You'll get the attention of journalists, the media, and, eventually, your clients and customers if you know how to play your PR cards correctly.
No matter what the topic is, a news release can help you tell your story the way you want it to be told.
A well-written press release can mean the difference between coverage and obscurity. Consider the following seven critical components of an effective press release and later on some examples of press release templates.
Formally, a press release is an announcement by a business containing the most important information about the latest developments in the company.
One of its goals is to compile all of the pertinent information from the story into a single location. A well-written press release can garner valuable media attention while still allowing the company to shape the story as they see fit.
Press releases can be found on the company's website by searching for Press Releases, Press, Media, Media Center, or other similar terms. Some businesses prefer to keep an account on a public relations website and post their news there.
As part of your content marketing strategy, optimizing press releases on a regular basis can help you achieve your goals. Their added benefit as a marketing tool is that they can generate demand organically as a result of reporter interest.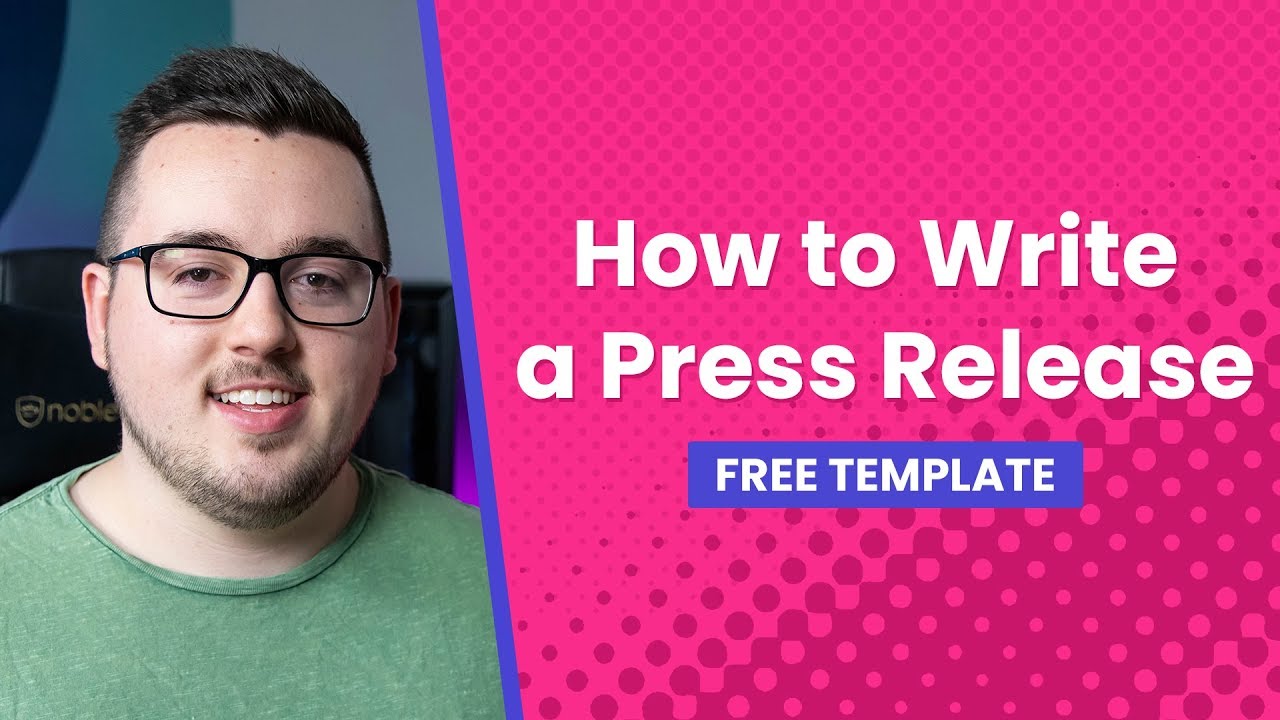 How to Write a Press Release (Free Template)
You can use a press release to spread the word about your healthcare organization's community service efforts. Press releases can help your company get the attention it deserves for a variety of reasons. One of the most common is the hiring of a high-profile employee or the launch of a new health initiative.
However, before you begin writing, take a moment to consider your target audience.
To attract journalists, press releases must pique the interest of the target audience, which may be quite different from that of the average blog reader.
When it comes to evaluating your press release, here are seven of the most important factors to consider.
"For Immediate Release". Do you want your news to be broadcast as soon as possible? Then, near the top of your document, write "For Immediate Release." Put the date at the top of your document instead if you have a reason to keep the news under wraps until a specific date. Contact(s) for additional information. Ascertain that any contacts you include are knowledgeable, available, and willing to field press inquiries. Additionally, the more precise your instructions for contacting a contact are, the better.
Directions that are optimal: Monday through Friday, from 8 a.m. to 5 p.m., our Communications Director can be reached at 555.555.5555.
Directions are acceptable: For additional information, please contact our switchboard. Our operator will point you in the right direction.
A headline or subject line that is compelling and succinct. Because a journalist's inbox is likely to be clogged with press releases, it's critical to craft a subject line that stands out. Consider this text to be an invitation. Concentrate on each word. Include statistics or outlandish statements that pique your interest.
The best subject line: Anytown Hospital's mammography machine significantly reduces exam times.
Acceptable subject line: We're thrilled to announce the acquisition of a new machine for our cancer center.
Statistics and facts. With reliable, verifiable statistics, the transition from abstract to specific. If you use numbers or statistics that are not directly from your organization, ensure they come from a reputable source.
Optimal statistics: This year, our patient satisfaction rate is 96 percent. This represents a 75% increase over last year.
Acceptable statistics: Our patient satisfaction rating is the highest it has ever been.
Lots of white space. The length of a press release can range from 300 to 800 words or more, but brevity is preferable. Bear in mind that you are attempting to persuade a reporter to contact you for an interview. Do not feel compelled to write a full-length feature article. Concentrate on writing a strong introduction paragraph that is dense with information and avoid unnecessary horn-tooting.
The ideal introduction: On our website, we've published this year's performance metrics. Three significant accomplishments include...
Acceptable introduction: We're so proud of our performance this year that we'd like to walk you through each of our initiatives in detail. We're confident you'll be as taken aback by our work as we are.
Contextual information. Include a link if you direct readers to your website for additional information. Make certain, however, that the link is marked as "no follow" in order to comply with Google's Webmaster Guidelines.
Excellent writing: Recently, our chief of cardiology received an award. On June 1, our Chief of Cardiology, Robert Smith, MD, accepted the local chamber of commerce's Cardiologist of the Year award. His 25 years of service, as well as his 15 journal entries in the American Journal of Cardiology, have earned him this honor.
Simple, informative writing. Provide the who, what, when, where, and why—without resorting to jargon. You'll gain more credibility if you stick to the facts and leave out the nonsense. And this could help boost the impact of your next press release. An unbiased source is a reporter's dream.
Using this press release template, you'll be able to create a professional-looking press release in no time at all. Include your company's logo, contact information, a direct, engaging headline, boilerplate text, a call to action (CTA), and an end notation. To be on the safe side, adhere to journalistic standards (such as AP style or the Chicago Manual of Style) and include all relevant information without overwhelming your readers.
Whether you're announcing a movie premiere, fashion show, restaurant grand opening, art exhibit, or sports event, this template can be used to announce it. This template includes sample copy that you can edit to introduce your event as clearly and concisely as possible, in addition to the required press release elements. Add your organization's logo and any other relevant information to the template to make it your own.
Using this template, you can make a formal announcement for the release of a product, a magazine (or other publication), a book, or the launch of a political campaign. Simply enter the required information for a standard press release and use the sample copy to write concise, direct information about the upcoming launch. Because the purpose of a launch press release is to attract new customers, take additional time when writing it to research and understand your target audience.
Utilize this template to communicate business-related news, such as the appointment of a new CEO or other executive, a notable new hire, a strategic partnership, or a merger and acquisition. Edit the sample copy to fit the news event you're covering and include as much or as little background information as necessary based on the issue's complexity. This template is also suitable for nonprofits and small businesses. Be mindful, however, of the fact that your press release's length should not exceed 1-2 pages.
Download this template if you need to make a formal announcement about a social media update, such as a new feature or channel. Background information on the social media outlet, as well as detailed information on the update, will be included in the body paragraphs of this type of press release. Include links to your social media accounts or a new functionality walkthrough if you plan to distribute the press release online. Of course, you are free to change the copy to your liking.
One of the primary benefits of a well-written press release is that it presents your company with the opportunity to gain media attention. The formal announcement can be distributed to (and occasionally circulated by) media, public relations, or news organizations in order to generate interest in a particular occurrence, event, release, or launch. Thus, you can use a press release to showcase your company's values, tone, and audience. Additionally, a release can help your business grow by incorporating links to existing content. If done correctly, a newsworthy announcement and cost-effective content marketing can coexist in one press release.
We hope these press release templates can help you to make your next press release successful.
Share:
Twitter

|
Facebook

|
Linkedin