The Right Business Plan Template SBA For Lean Startup And 8(a)
Even small business owners need a business plan, and knowing the right business plan template SBA could make them eligible for some government assistance.
Back in the early '50s, an American government initiative focused on reaching out to small businesses, a program that continues up to this very day. One important document the government requires is – surprise! – a business plan.
The U.S. Small Business Administration (SBA), a federal agency formed on July 30, 1953 during the Eisenhower Administration, helps small business owners in America succeed. SBA, according to its website, offers its services to these particular people in terms of "counseling, capital, and contracting expertise," among other forms of assistance.
If qualified, small businesses need to create a business plan template SBA and submit it for review.
The Essence of a Business Plan and Why You Need One
COPYRIGHT_FT: Published on https://free-template.co/business-plan-template-sba/ by Steve Martins on 2022-09-18T18:24:55.642Z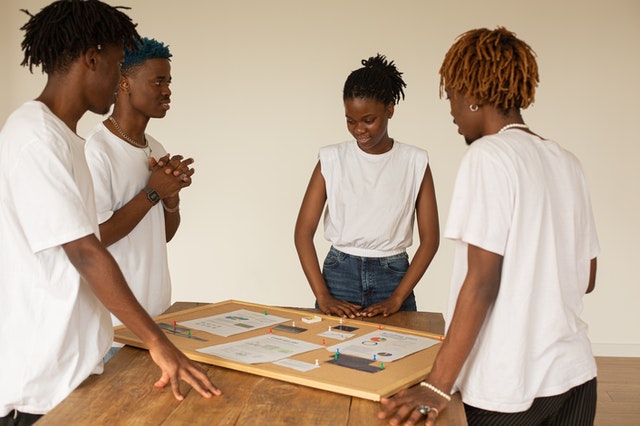 Three Black Americans and one female Black American discuss parts of their business plan pinned on a corkboard
On its website, SBA named traditional business plan and lean startup business plan as the two conventional types of a business plan.
For comparison, a traditional business plan template is more comprehensive or elaborate than a lean business plan template SBA, where the latter is simply one-page long.
SBA enumerated the following to be the nine main components of a lean business plan template:
Key Partnerships
Identify potential strategic partners.
Key Activities
Explain how the business will achieve a competitive advantage.
Key Resources
Specify assets and business resources that can be used to increase the product/service's value to target customers.
Value Proposition
Compose a statement that will clearly communicate the intention of the business and the value it aims to give to customers.
Customer Relationships
Discuss how interaction will occur between the business and the customers.
Customer Segments
Name the target market.
Channels
Identify the communication channels to be used to reach out to customers.
Cost Structure
Present business strategy and from there, indicate the most crucial costs that will arise from it.
Revenue Streams
Discuss how the business will earn.
SBA shares on its website certain steps recommended by Tim Berry when creating a lean business plan.
Berry, founder and chairman of the business plan software company Palo Alto Software, came up with the following five steps to undertake when writing a lean startup business plan:
"Strategy is Focus"
Write down a simple (a bulleted list will do, advised Berry) and summarized business strategy. Don't forget to identify what problem your business will solve and how it will do so, to explain your business identity, and to list your target customers.
"Tactics to Match Strategy"
Talk about your product/service and the business tactics you will apply. Discuss distribution channels, funding, marketing, pricing, and workers.
"Specifics on What, When, and How Much"
Berry instructed small business owners to make a "simple, practical list" of budgets, deadlines, goals, and tasks.
"Essential Numbers"
The numbers being referred to pertain to cash flow, costs, expenses, and sales. Make a careful forecast about them.
"Regular Review and Revise"
For Berry, this is the step to take repeatedly. Whenever necessary, review and revise the business plan monthly.
It would be wise for small business owners to follow these steps when they start drafting their first business plan template SBA.
SBA Form 1010c or 8(a) business plan, is a required document for small business owners to be eligible to the federal government's 8(a) Business Development program. SBA manages this annual program, which aims to make "small disadvantaged businesses" obtain government contracts.
For a business to be considered small and disadvantaged, one criterion by SBA is that at least 51 percent ownership is by a "socially and economically disadvantaged" U.S. citizen.
The Code of Federal Regulations, per U.S. courts, regards a person belonging in one of the following groups as socially disadvantaged: Black Americans, Hispanic Americans, Native Americans, Asian Pacific Americans, and Subcontinent Asian Americans.
As for the economically disadvantaged person, the Code of Federal Regulations identifies him/her as a socially disadvantaged individual with a net worth "less than $750,000."
Aside from the name and address of the company, contact person, and telephone number, the 8(a) business plan template SBA is composed of 11 sections.
These sections are the following: Executive Summary; Business History, Background, and Objectives; Business Environment; Products and/or Services; Present Market; Competition; Marketing Plan; Management and Organization; Business Resources; Financial Plan/Data; and Contract Support Targets.
Important reminder: SBA demands small business owner(s) to be the one(s) who will do the 8(a) business plan.
Following the right business plan template SBA and ensuring it will be completed without missing any detail is one huge step already.
DBE Direct LLC, a Miami-based business service company, warns small business owners that SBA returns an incomplete 8(a) business plan.
Incomplete could also mean the wrong business plan template SBA; so, better take note of the information contained in this article.
Share:
Twitter

|
Facebook

|
Linkedin