Donation Request Letter Template 2021: Top 4 Easy Guides And Effective Tips You Must Apply In Writing!
Donation letters are one of the most efficient ways to get in touch with your donors and ask for a donation. However, merely sending the same request to your whole supporter network and asking them to donate isn't enough.
Writing a fantastic donation letter is a great way to engage your supporters and show them how important they are to your cause. Your nonprofit will not only improve fundraising money but also establish relationships with donors if you give thought to the content of your donation letters.
It's always a good idea to evaluate the basics and make sure your communication methods provide a firm basis for growth, whether you're just getting started with your contribution letter plan or looking for ways to improve it.
Make a point of greeting the recipient when you begin your letter. It's critical to include their name in your donation letter; letters without names come off as impersonal and are more likely to be ignored. The first thing donors look for in a direct mail appeal is a personalized salutation.
According to some studies, emails with names in the salutation are 26% more likely to be opened! Don't forget to include this crucial detail in your letter, whether you're writing it by hand or using a messaging tool.
If the recipient has never heard of your group before, you must convey your mission right away. Readers will gain a better idea of what you're fighting for and the objectives you want to achieve this way.
One of the easiest ways to do this is to tell a story about someone who has benefited from your organization and how donors have helped make a difference in their lives. This ties contributors to your cause and shows them who their donation will help.
You're probably writing a donation letter for a specific reason, such as a project, a campaign, or an event. Make sure to explain the rationale in depth and add important details such as dates or rules. The tale at the start of your donation letter will help to strengthen your case!
Don't forget to tell your contributors why this project is so essential to you. What role does it play in their ability to make a difference? Why should people donate to this particular program?
If you're raising funds to provide materials to schools all around the world, for example, notify your donors which school and community their gifts will benefit. Giving a backstory is a terrific method to engage with potential donors on a more personal level.
Donors like knowing where their money is going and how it is helping to make a difference. Make a solid donation request in your donation request letter by outlining exactly what the money will be used for.
For instance, noting that a $100 donation provides food, shelter, and medicine to a dog helps donors comprehend their influence. It may also encourage them to be more generous—they may decide to boost their $50 donation to $100!
We've supplied templates for common situations below to help you get started on your donation request letter journey:
There is a common formula for writing a donation request letter that you can use or modify to suit your particular voice and audience. Above all, your gift request letter should be tailored to the recipient and clearly describe how their contribution will benefit the world.
This fundraiser template is fairly general and may be used for any form of fundraising campaign. Use the template as a guide to ensure you cover all of the essential themes, but feel free to personalize it to better connect with your audience.
You should write a meaningful thank-you note for every donation you receive. After all, your organization wouldn't be able to make the impact it does without the help of its supporters.
Feel free to use this template as a guide while writing your thank-you donation letter. This manner, you can be sure you're keeping the message personal while also appropriately thanking the giver. Remember to mention the gift's impact so that donors may see how it was put to good use.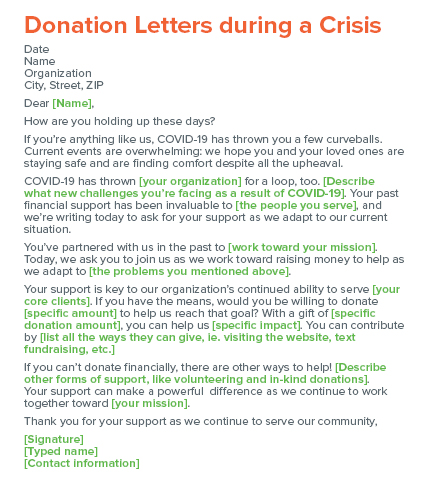 An example of donation letter during crisis with emphasis on connecting the donor with the recipient
During times of crisis and unrest, writing a donation letter may appear to be a difficult effort. When dealing with sensitive matters like this, it's better to address them early once and assure donors that you understand their predicament. Finally, keep in mind that these letters should be donor-centric, with an emphasis on connecting the donor with the individuals who will benefit from their generosity.
More information on the crucial points and details to hit may be found in our template here. You can always submit more information that is relevant to your organization. Please feel free to use any of these donation letter templates to assist you with your fundraising and communication needs. The greatest method to create relationships and enhance fundraising for your organization is to have the resources to properly reach out to your donors.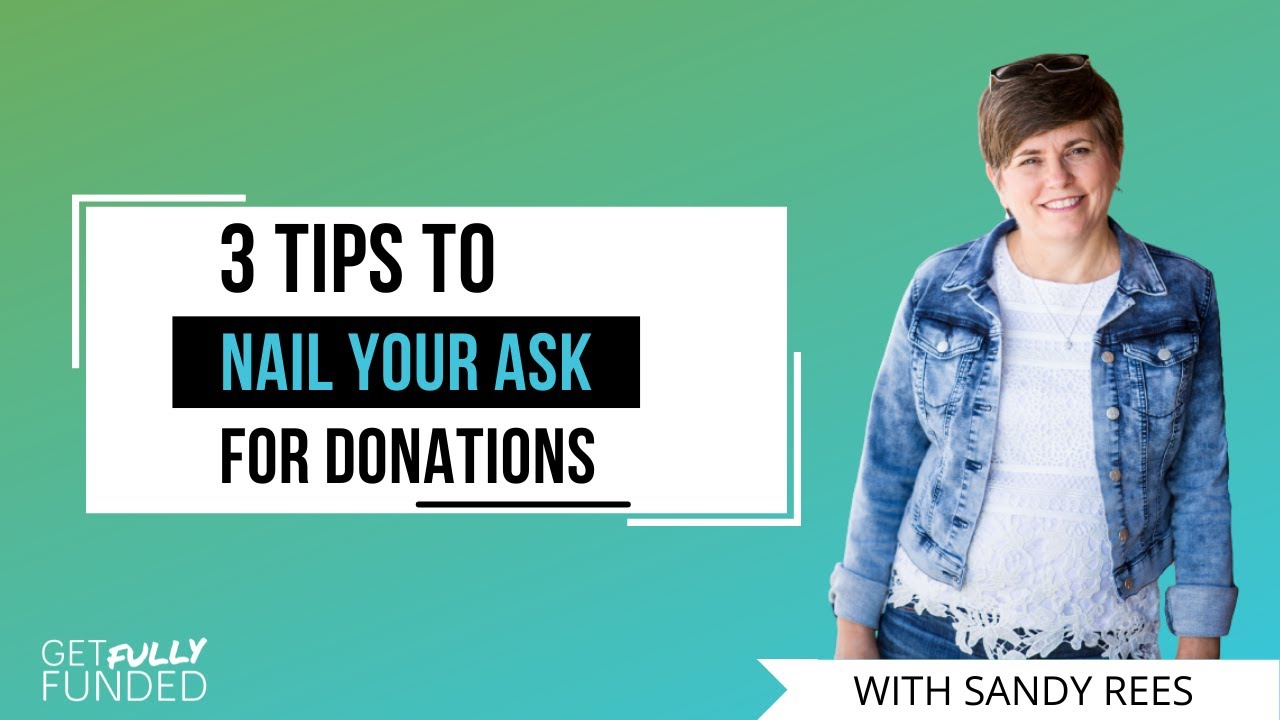 3 Tips to Nail Your Ask for Donations
As the phrase goes, the best policy is honesty. People want to know that their contributions are going to a good cause. Telling your tale honestly will reassure individuals who are asking for assistance. If a donor can relate to your experience, they are more likely to donate.
Encourage potential contributors to visit your fundraising website for additional information and to join you on your adventure by donating. Take a look at our guide on writing a great fundraiser tale to learn more about storytelling.
Appealing to each potential donor's specific interests is the greatest approach to get a positive response—and a donation. Keep your words conversational and bright if you know someone who might respond better to a warm, lighthearted request. Deliver your message in a formal manner to someone like a coworker who may respond better to it.
When posting your fundraiser, it's critical to portray a sense of urgency. Without that sense of urgency, your potential contributors may be hesitant to donate, forcing you to ask them again later. Explain what will happen if you don't raise the money in a particular length of time, and you'll almost certainly notice an increase in donations.
It's important to remember that even unfavorable outcomes can be interpreted in a positive perspective. If you're looking for similar advice, check out our blog on the psychology of giving.
One of the benefits of email is that you may ask friends and family to forward the non-personalized piece to their own contacts. Consider writing a block of text that they can readily utilize for that purpose and referencing it in your email. Furthermore, email is ideal for online fundraising without the use of social media because it is effective, low-cost, and simple to track. Using these fundraising email templates, you'll be able to meet your fundraising goals.
While this is self-evident, it is easy to overlook: make it simple for people to donate. Include a link to your donation page in your request, and don't be afraid to specify where on your fundraising the donation button is situated.
Make it plain to potential contributors why they should donate to your cause. Using numbers, developing a checklist, and noting expenses are all examples of being particular. Get precise with the requested amounts—for example, "A $125 donation will allow Jenny to complete one month's medications." Visit GoFundMe Causes for further examples of how different donation levels might help.
When it comes to writing donation requests, you don't need to follow a formula. Taking a different approach to typical fundraising formulas will make your event stand out. Just make sure the strategy you chose is appropriate for your event and encourages people to participate. Here are some creative approaches to soliciting donations:
Begin your request with a line from the beneficiary's favorite poem or music. To make your request more emotionally engaging, including photos or videos. Before pitching your request, address common anxieties and misconceptions regarding crowdfunding to provide clarity and reassurance to funders.
Nonprofits rely on charity donations to keep their support for a cause going, therefore crafting a strong donation request letter is essential. This donation request letter is effective because it draws the potential contributor in right away with an emotionally engaging story about the group and its mission.
With a concrete example, use this letter to demonstrate how your nonprofit makes a real difference in people's lives. This will demonstrate to funders that this isn't a hollow request and that your organization is truly committed to making a difference. Make it clear what you're looking for and what you plan to do with the money.
Share:
Twitter

|
Facebook

|
Linkedin